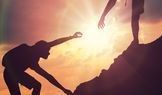 As those of you who are autistic or have an important place in the life of someone who is autistic, you are aware of the following:
being autistic does not mean you are broken, sick, intellectually impaired or severely disabled. These descriptors and conditions belong to other disorders.
Some of our work is with autistic teens and adults (neurologically diverse, or otherwise known as NT's) who need treatment to meet the life challenges they may face. Some of these may be co-morbid disorders(disorders which are commonly related to ASD). These include mood disorders, anxiety disorders, Attention Deficit Hyperactivity Disorder (ADHD), communication skills, and social skills (like that first date!) We find ourselves discussing IEPs/504s and other classroom issues. This last service helps to inform school staff of challenges and possible adaptations to move your child forward. And, there is one other area in which you might be interested: sexual orientation and gender identity.
PsyHarmony is proud to be a solid ally of the LGTBQ population. Many of the ASD folks we treat are questioning their sexual identity and/or orientation. We have a program in place to help with family issues, psychoeducation regarding sexual assignment, coming out, and other useful resources.